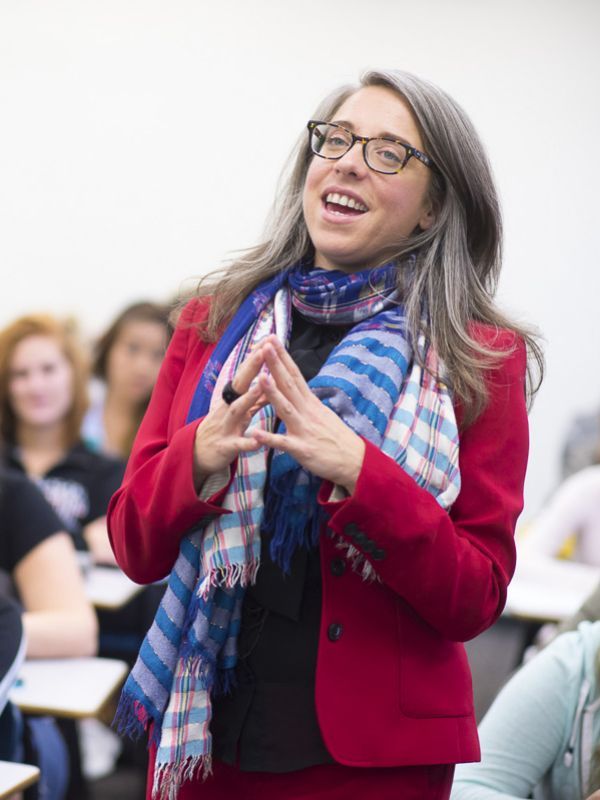 Assoc. Professor
Wendell Phillips Center
Education
PhD, Rutgers University, 2011
BA, Bard College, 1999
Teaching Interests
My goal as a history professor is not for students to memorize a series of events, but rather to enable students to frame questions, learn new ways of reading and develop a passion for critical engagement with the past and present. In the classroom, I prioritize sophisticated analytical writing and thinking to make sense of the past, identify and differentiate historical events and themes, and unravel their importance through the use of primary and secondary sources.
I use various in-class techniques-including visual source analyses focused on "reading" non-textual sources, group discussions, and student-led presentations-to make the classroom an engaging and exciting learning environment and give students a deeper understanding of our course materials. I teach students to consider the biases, exclusions, and diversity of the online historical record and to interrogate their own research strategies.
These teaching devices are aimed at improving the oral communication skills and critical research abilities of my students and helping students contextualize historical studies into the contemporary world around them. 
Research Focus
Kris Alexanderson received her PhD. from Rutgers University in 2011 and completed her dissertation research as a Fulbright IIE scholar to the Netherlands.
Her first book, "Subversive Seas: Anticolonial Networks Across the Twentieth-Century Dutch Empire" (Cambridge University Press, 2019), is at once a history of global maritime networks connecting colonial Indonesia to port cities in East Asia, the Middle East, and Europe and a ship-level history of the everyday lives and political struggles of colonial subjects travelling across the world's oceans. "Subversive Seas'" revealing portrait of the oceanic Dutch empire exposes the maritime world as a catalyst for the downfall of European imperialism.
She has published her work in the "Journal of Social History," "Journal of Pacific History," "Journal of Early Modern History" and "Journal of Military History," as well as in edited volumes "Colonialism, China and the Chinese: Amidst Empires" (Routledge, 2019) and "The Sea in World History: Exploration, Travel, and Trade" (ABC-CLIO, 2017).
She has begun researching a second book project with help from an Arnold L. and Lois S. Graves Award in the Humanities, funded by the American Council of Learned Societies, which explores the intersections of empires, environments, and economies during the 20th century.