April 15, 2023 08:30 am
- 01:30 pm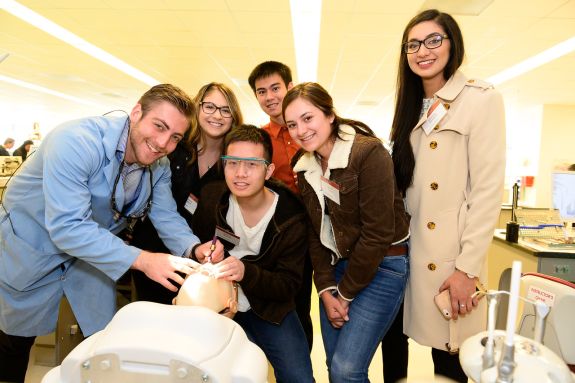 Our annual admissions open house gives prospective students and their families a chance to discover more about dental education at the Arthur A. Dugoni School of Dentistry.
Update: THIS EVENT IS SOLD OUT. No walk-ins. If you still wish to arrange to take a tour of the campus at a future time, please email sf_admissions@pacific.edu. Tickets are non-refundable.
Discover what makes the Dugoni School a leader in dental education and meet the Dugoni School family!
Dugoni Discovery Day provides attendees with an inside look at the DDS, IDS and Dental Hygiene programs at the school, and offers tips on how to prepare to apply for admission to these programs.
Guests will have the opportunity to:
Meet faculty, staff, current students, student leaders and other members of the Dugoni School family
Experience a hands-on demo in the high-tech Simulation Clinic
Tour the school's state-of-the-art campus, including dental and specialty clinics, learning spaces and other areas
Hear from a student panel and get questions answered
Engage in a Q&A session with leaders in Admissions, Financial Aid and Student Affairs; representatives for DDS, IDS and Dental Hygiene programs will be available
Attire: Business casual
Parking/Transit: There is paid parking available at the Fifth and Mission Garage, which is located right next to the school. The school is located approximately 1.5 blocks from the BART/Muni Powell Station.
Check-In: Check-in will begin at 8:30 am on the first floor. Activities will start at 9:15 am.
Guest Policy:  Attendees may purchase up to two guest tickets per registration (for parents, family or other guests)
Add to Calendar
2023-04-15 08:30:00
2023-04-15 13:30:00
Dugoni Discovery Day: Admissions Open House
Our annual admissions open house gives prospective students and their families a chance to discover more about dental education at the Arthur A. Dugoni School of Dentistry. Update: THIS EVENT IS SOLD OUT. No walk-ins. If you still wish to arrange to take a tour of the campus at a future time, please email sf_admissions@pacific.edu. Tickets are non-refundable. Discover what makes the Dugoni School a leader in dental education and meet the Dugoni School family! Dugoni Discovery Day provides attendees with an inside look at the DDS, IDS and Dental Hygiene programs at the school, and offers tips on how to prepare to apply for admission to these programs. Guests will have the opportunity to: Meet faculty, staff, current students, student leaders and other members of the Dugoni School family Experience a hands-on demo in the high-tech Simulation Clinic Tour the school's state-of-the-art campus, including dental and specialty clinics, learning spaces and other areas Hear from a student panel and get questions answered Engage in a Q&A session with leaders in Admissions, Financial Aid and Student Affairs; representatives for DDS, IDS and Dental Hygiene programs will be available Attire: Business casual Parking/Transit: There is paid parking available at the Fifth and Mission Garage, which is located right next to the school. The school is located approximately 1.5 blocks from the BART/Muni Powell Station. Check-In: Check-in will begin at 8:30 am on the first floor. Activities will start at 9:15 am. Guest Policy:  Attendees may purchase up to two guest tickets per registration (for parents, family or other guests) If you have any questions, please email pr@pacific.edu
155 5th St, San Francisco, CA 94103, USA
Arthur A Dugoni School of Dentistry
Arthur A Dugoni School of Dentistry
America/Los_Angeles
public
155 5th St, San Francisco, CA 94103, USA
Arthur A Dugoni School of Dentistry