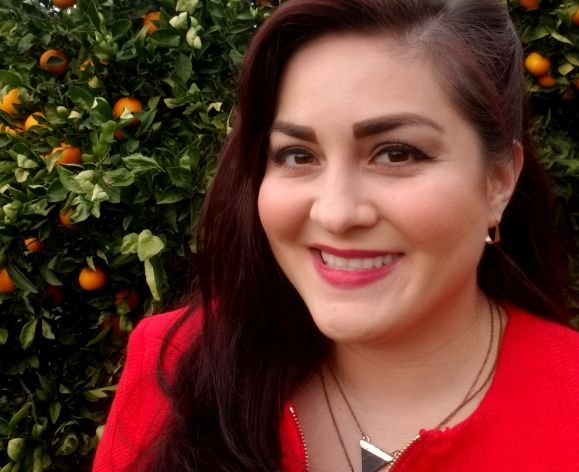 Success After Pacific
Jennifer Hidalgo
Quick Facts:
Grad Year: 2010
Organization: District representative for State Sen. Anna Caballero
Jennifer Hidalgo '10 transitioned from public relations to politics and now is the district representative for State Senator Anna Cabellero who represents parts of Stanislaus, Fresno, Monterey and Madera counties and all of Merced and San Benito counties.

Q - Tell us about your job.
A - I'm a liaison in the district. I help out throughout the district, but I concentrate on Stanislaus County. I'm the eyes and ears for Sen. Caballero here in the district. I go to meetings for her. I give updates on her behalf. I staff her when she's in the district.
I also do a lot of constituent casework. So, if there are constituents who need assistance with any type of state agency -- right now, with the EDD office, there's been a lot of issues with constituents not being able to get through, so we are helping a lot with that. We will sometimes connect them with resources or work with other legislators such as our congressman to assist them. If we can't help them from our end, we will collaborate with other offices in order to get the constituents them what they need.

Q - How did you come to work for Sen. Caballero?
A - I was asked to work on her campaign when she was running, and I was the coordinator for the canvassing team here in Stanislaus County. After she was elected, she asked me to come on as one of her representatives. 

Q - What's your favorite thing about your current job?
A - Even when I was doing public relations, I was doing a lot of work within the community and so what I really like about this job is that I still get to be in the community. I get to learn what it is the community needs. And I get to be a voice for them, somebody who can do something about their situation.

Q - How did your background in communication help?
A - It was a weird transition, getting into politics. But really, communications was great. I was on the forensics team at Pacific. Especially with debate, we were up on current events. I was one of the students that did the morning announcements on Tiger News. It helped me a lot because I did a lot of public speaking. I traveled a lot with the forensics team.
I thought the classes that I took were really helpful in preparing me for a whole host of things. I was in public relations and marketing prior and so with that, it kind of led me into my government role. 

Q - What skills did your time at Pacific help you build?
A - Public speaking, research. When I graduated high school, it was the start of social media and so I got to also build up my skills. I learned some video editing as well as voice and audio editing. I learned to be more succinct depending on what I was writing. Sometimes they don't want you to be flowery, they just want you go straight to the point. Those were skills that really helped me out a lot.
Q - Could you tell us more about the debate team?
A - I was doing speech and debate at Modesto Junior College. So, when I was looking to transfer, I was looking specifically for schools that had a speech and debate team. Pacific is known for its dental program  and for other programs, but if you're in the forensics community, you really look to Pacific. I did the research and while I was looking to transfer, that was one of the schools that we had competed against.
I really liked the class sizes and that I would be able to connect with the professors and connect with the students that were there. But the speech team was a great opportunity. It becomes your family. That's what you do. You're there and you have practices basically every day and you have tournaments on the weekends.

Q - Besides forensics, was there anything else in the communication area that you were involved in?
A - I got to present one of my research papers. While I was in Dr. Dong's class it was chosen, and I got to present it in Alaska at a communications conference. That was really exciting. It was exploring why it is that students dropped out of high school and the reasons they go back. I received a stipend to go. It was in Anchorage, and the Iditarod was going on then, so I got to see the start of that. It was really cool.


Q - For students who are thinking about majoring in communication and are looking for a school, what would you tell them about Pacific?
A - I would say that communications is a great major. It really prepares you for a whole host of things. Depending on what it is you want to do, you can tailor your courses. I wish I'd taken more public relations classes because that's what I ended up doing. The curriculum that's there really prepares you to be able to do a lot of different things.
Pacific is a very well respected school, and having a communications degree really allows you to do a lot of different things because they're skills you can take to almost any job. 

Q - You graduated during the last recession. Do you have any advice for students who are looking at today's economy and wondering how they'll develop their careers?
A - I did have a job at a crisis center while I was attending school and then I took it on full-time and I was promoted to be a case manager. However, that wasn't something I saw myself doing forever. So I started taking internships that were available. I reached out to the companies that were in my area that were doing public relations and I told them, 'I'm interested in getting some experience. Would you be interested in having me come in and seeing if you have a spot for me to learn these skills?' That's how I started in public relations.
So, look for opportunities where you can get as much experience as you can. They oftentimes lead to permanent positions. I was able to do it without getting paid, and I know that's not always an option for everyone. I was lucky I had the support. But there are always nonprofits that are looking for extra help if you have design experience or social media experience. A lot of times, that's how you can get started making connections.