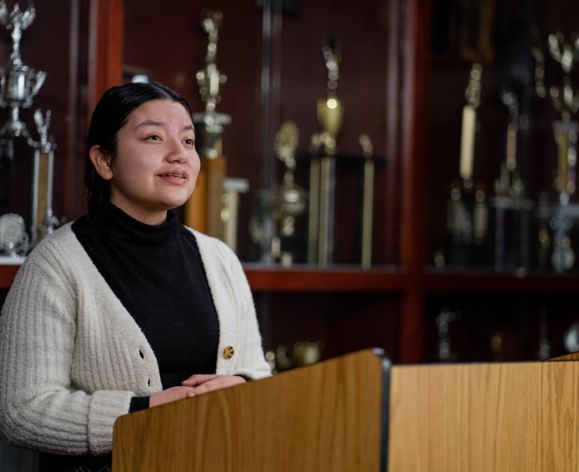 Outstanding Student
Elizabeth Monterroso
As a future attorney, Elizabeth understands how important public speaking is for her future career. She is developing these skills in her communication classes and by competing with the Pacific Speech and Debate Team. Elizabeth hopes that these experiences will make her stand out among other law school applicants.
Why Pacific? 
What really drew me in was Pacific's small class sizes. I loved the idea of having a relationship with the professors instead of just being a name on a roster.  
Why did you choose a communication major? 
I would like to continue to a law school. That's something I decided before I even came to college. I realized that many people take political science as their undergrad major before law school, but I wanted to do something different and something to improve my public speaking skills. When I realized that the law school doesn't really have requirements for your undergraduate degree, I thought that doing something different will make me stand out among the applicants.  
I also wanted to understand how communication impacts the way that we talk, the way that we are able to understand other people. 
Why did you join the Pacific Speech and Debate Team? 
At the beginning of college, I was very scared of speaking in public. I recognized I needed a push to motivate me to fix the way I was speaking and to help me improve. Forensics has definitely put me in a position where people are listening to me speaking. They're judging what I am saying through the way my speech is forwarded. 
That ties to becoming a lawyer. There are going to be times when I will be in front of a judge. I will have to give speeches under a lot of pressure. Now I am going to have prior experience of having pressure and being able to enunciate and deliver things correctly
What is it like being on the speech and debate team? 
I knew I was going to start many new things in college, so I decided to look into different clubs and groups. I chose speech and debate because it forces us to get out of our comfort zone. I am now in my third semester, and I've gone to quite a few competitions where I was able to get second place a few times. We compete against other college teams and sometimes we get to travel to other cities. For instance, I got to compete in San Jose. 
I am an individual event speaker which means I don't debate, but I perform my own speeches. In the speech section of the forensics team, we are allowed to speak on different platforms. I give impromptu speeches, persuasive speeches or informative speeches and things like that.  
Have you done any special projects for your major? 
In the communication research method class with Professor Qingwen Dong, we have to do a research study. This year, Professor Dong had everyone do their own survey and research. Mine was about how anxiety is impacted by Instagram usage. I surveyed people on how they felt, and I tied that to how long they used Instagram, what they used it for and things like that.  
Also, I found some research that Instagram, or social media usage, is actually decreasing anxiety and depression. It relieves stress from things such as studying. And obviously, there are other factors, too.  
Does your Pacific experience prepare you for a career in the real world? 
My communication classes definitely have helped me in terms of speaking in public. I can't emphasize enough how much speaking in front of 20 people in your classes, over and over again, and giving speeches helps you with talking to a random person. For instance, it helps me in tutoring because I know how to say things in ways that people can understand. 
Also, we don't have labs, but we do have internship opportunities. I'm doing my forensics as a practicum for communications. 
What surprised you most about Pacific? 
I didn't expect the professors to know me personally. I've had this one professor four times in a row, and he knows how I've grown from my previous classes. And it's really interesting to see how the professors care about your grades. They care about you.