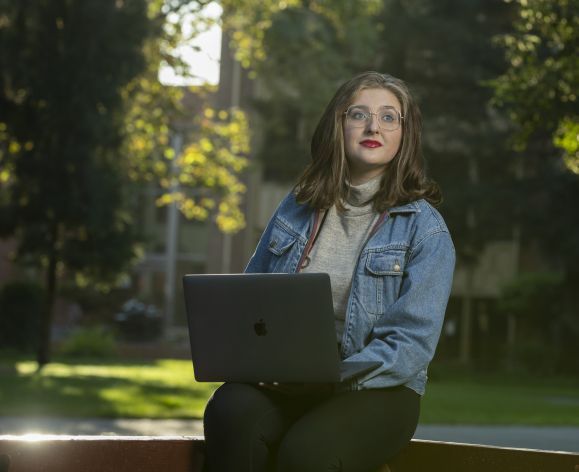 Outstanding Student
Elizabeth Malone
Grad Year: December 2020
Hometown: Stockton
Major: English with minors in ethnic studies and teaching profession
Activities: ASuop; Sigma Tau Delta member (English honors society); volunteer at the Friends of the Public Library; yield student representative for the Department of English
Favorite Off-Campus Place: Siamese Street. Elizabeth also loves to go to the farmers market
When English major Liz Malone is not juggling online classes or volunteering at the Friends of the Public Library, she is working full time as an AmeriCorps member at Changeist.
Q: What made you choose Pacific?
A: I chose Pacific because I love my Stockton community. Also, Pacific had a lot to offer from good programs to scholarships to good connections with faculty due to the small class sizes.
 
Q: Why did you choose your major?
A: Fun fact, I originally applied and got accepted into the mechanical engineering program. However, during orientation, I realized that I was more passionate about English. So, I picked up the phone and called my English teacher from high school who was a Pacific alumnus from the English Department. He advised me to pursue my passion and spoke very highly of his alma mater program.
I chose this major because it's an experience. The discussions and thoughts that come along during class are like a beehive—we collect thoughts together as a class and build and expand on them. 
 
Q: Who has inspired you at Pacific?
A: My colleagues, faculty members and staff members that I have been able to work with. They helped me grow both personally and professionally.
 
Q: What do you like best about Pacific?
A: I love the charm and mystique of the campus. It feels like it's alive in its own way.
Q: What is your favorite memory about Pacific?
A: It's an unusual favorite memory, but I love finals week on campus. It's usually me and a couple of friends fully charged on coffee and staying up all night studying. We work through the anxiety adrenaline and end up falling asleep in the library when it's open 24 hours. 
Q: What experiential learning opportunities have you had?
A: Through my on-campus job working with ASuop, I learned how to manage student staff, talk to professionals on campus (president, regents, directors), and program events. I was able to utilize these skills from Pacific for my current job at Changeist.
 
Q: What advice would you give an incoming student who wants to pursue your major?
A: I would like to advise them to actually do the readings and to buy into the college experience and English major. What I mean by buy into is: if a professor is asking you to meditate, don't roll your eyes- just do it and make the best out of everything. Don't forget to have fun along the way!
 
Q: What do you plan to do next?
A: I plan on finishing up my term as an AmeriCorps member with Changist, which ends in June. 
I am one of the 11 AmeriCorps members in Stockton. I work full time in this position recruiting student youth and leading programming for teams to address social issues and promote activism. We work with community partners across Stockton.
After my term ends, I plan on getting some more experience and then pursuing a master's degree in social work.