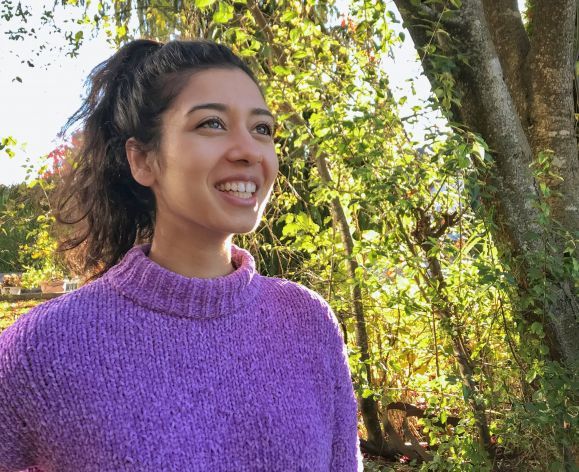 Saira Purhar
Major: Environmental science
Graduation Year: 2021
Hometown: Vancouver, British Columbia
Activities: Cross-country team
Favorite Off-campus spot: BJ's Brewhouse (Saira recommends the pazookie)
Q: Why did you choose Pacific?
A: I was looking to run cross country in college and so when I was in high school, I reached out to the coach at Pacific and he invited me on an official visit. 
I fell in love with the running program but also the campus and the small class sizes. Everything seemed to be perfect for me. It was a bit of a dream and I was able to come.

Q: Why did you major in environmental science?
A: I actually came into Pacific as a freshman choosing biology because I had this idea of being a wildlife photographer for National Geographic just because I was so drawn to like nature. And I knew I wanted to do something in the field. But I found very quickly that I liked environmental science more than biology, especially at Pacific. It's more like ecology-based and that's what I was looking for.

Q: What would you like to do with your degree?
A: I want to be an environmental lawyer. I took a course from professor Karrigan Bork. One of the biggest things he said was climate change is an existential threat right now. It's huge, but he said there's enough science out there that we know what we need to know. 
We also need people to implement the policy to make the changes. We need people in law to advocate for this. The science alone isn't enough.

Q: Have you had an experiential learning opportunity?
A: I've done research with Dr. Laura Rademacher. I did the summer undergraduate research fellowship program with her. We were looking at evapotranspiration in the Marshall Islands. Basically, the Marshall Islands are these low-lying islands that are suffering with climate change because the sea level is rising and getting into their water supply.  So, a big thing for scientists right now is saying like we need to understand how the water cycle works in the Marshall Islands.
We're looking at is a big unknown so, we were trying to use satellite imaging to understand the exactly transpiration part of the water cycle in the Marshall Islands.
Q: How do you envision your research being used in an effort to help that problem help solve that problem?
A: Once you're able to figure out every part of the water budget, at least somewhat accurately, scientists will be able to know that how much they have to work with, which is extremely important in determining things, like how much broader or how urgent the problem is. It is urgent. Of course, we know that, but how urgent and what other solutions should we be looking at such as like rainfall capture? I think it's really important for the management of the Marshall Islands.
Q: Have you had an opportunity to make a difference closer to home?
A: When I was at school in February of last year, I applied for the Sustaining Pacific Investment Fund grant, and I actually was awarded money to purchase an electric mower to replace our gas-powered mower at school, which was really cool because we're saving gas, we're saving money and it's going to be quieter. 

Q: Where does your passion for environmental sustainability come from?
A: I don't know. I've always been drawn to nature from very young age, but especially growing up in British Columbia, we've got beautiful trees and mountains. My childhood, a lot of it was spent outside and so I've just had a natural attraction to wanting to save the earth, especially because nowadays in our society, it's so easy t not understand how much we are destroying the Earth with our just everyday system. And I have this strong calling to want to help be part of this part of the solution. And it's like a huge complex issue, but it's such a passion of mine.
 
Q: Do you have a favorite memory of Pacific so far?
A: There's so many good memories. Probably it's just whenever I'm with my friends — like random moments: a nice, beautiful day on campus, or getting burritos and you see it. There are so many moments that are just perfect, and I think it's the people — and also the campus.