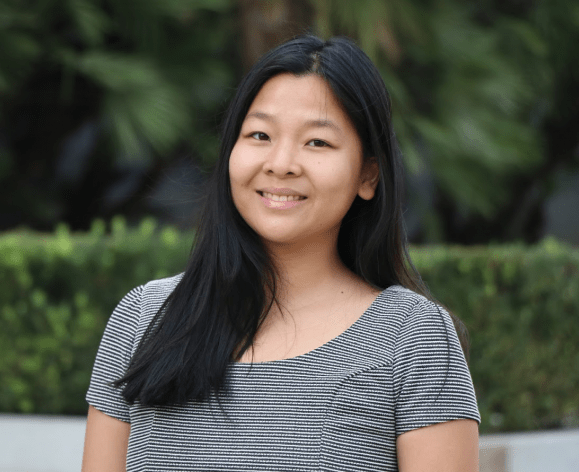 Sarah Kuo
Major: Geological and Environmental Science
Minors: Sustainability, Jazz Studies
Graduation Year: 2017
Company: California Department of Public Health
Activities: Brubeck Fellow; Digital Delta Project; President of Soul Speaks; Black Student Union; Queer People of Color; Council of University Social Entrepreneurs; Student to Student Healthy Relationships Peer Educator; Peer Mentor for the Department of Geological and Environmental Sciences; Water Resource Educator at Sustaining Pacific.
Q — What do you do at the Department of Public Health?
A — I'm an environmental scientist with the Site Assessment Section (SAS) of the Environmental Health Investigations Branch (EHIB). At SAS, we assist communities and public agencies in addressing health and exposure concerns related to hazardous waste sites (for example Superfund sites) and releases of hazardous materials. We put out public health advisories (PHAs) that give recommendations to everyone from site managers, local government, to individuals, on what steps should be taken to best protect community public health.

Q — Is there more hazard out there than we know?
A — Probably more than people think about. It is not an easy topic to be knowledgeable on because there are many different pervasive chemicals we have pumped into our environments that are difficult to understand and that sometimes have been obscured purposefully by the industries that create them. And a lot of the time, these chemicals are found in the neighborhoods of communities of color and low-income communities that already have a million other pressures acting around them, let alone the normal day to days like raising a family, paying bills, obtaining an adequate job or jobs and health insurance. So, at times it can be difficult, especially as a state government agency that is from the outside coming in, to organize with the community for the best, most health protective action plan while understanding and being mindful of their needs and previous perceptions. 
Q — What's your favorite part of your job?
A — I like that I'm learning a lot about things that I otherwise would not learn if not for this job. There is generally a good deal of bureaucracy, nuance, and siloing of knowledge and resources in government, so it's been cool to have an 'in' and get to know these systems and, in turn, try to let everyone else know that there are these things out there.
I get to be somewhat of a bridge between important science about environmental contamination and the communities that are being affected by it. I hope to be part of the systems change that will make it so communities don't need bridges and already have a seat at their own tables.
Q — Why did you choose environmental science?
A — My degree allowed me to take classes from engineering, communications, literature, law, and so many other departments. Environmental science is meant to be intersectional because it has to do with just about anything and everything. It also helped that I was still figuring out what I wanted to study and so I had taken classes kind of everywhere. And I didn't really know it at the time, but all my interests in social movements, art, the outdoors, culture, and climate change all fit really well into this major. It was a place where all of my interests could merge, especially in geography, and I would later learn in public health. 
My favorite classes were probably aquatic chemistry and environmental law. I also really enjoyed a public advocacy class, and an Asian American literature class. No matter your major it is so important to take humanities courses. 
Q — You also worked on the Digital Delta Project, digitally recreating Stockton's Little Manila community.
A — Yes, that was so fun. Joshua Salyers and all the advisers for that project are so wonderful. It was that project and a research experiences for undergraduates (REU) I did in Belize that really connected everything for me, I think. I learned about eminent domain and about Highway 4 (Stockton's Crosstown Freeway) being built through a historically Filipino neighborhood. We read the late Dawn Mabalon's book Little Manila is in the Heart. I learned about colonialism in the Philippines and all the Manongs (the first wave of Filipino immigrants) who were tricked to coming to the U.S. to be laborers, similar to Chinese indentured servants, and how migration can be violent for many communities because of the way we have historically treated our immigrants in this country.
It made me realize that even when immigrants create these thriving and beautiful communities in a completely foreign place and make these amazing contributions to American society, we are still largely unqualified to be "American." That respectability politics and being a "good" immigrant often isn't even enough. It was really life-changing for me to learn and finally have the vocabulary to talk about things like redlining, built environment, eminent domain, imperialism, and all the things that affect and have affected immigrant families and communities of color like my own. It was especially powerful to learn this through the oral history process and being able to interview Manongs and the children and wives of Manongs, and hear first-hand what Little Manila, and its subsequent destruction, meant for their community. 
Q — What kind of advice do you have for students who are considering environmental science?
A — Take humanities classes! Figure out who you are, it will benefit you in whatever you end up doing. But majoring in something like this is a big responsibility. You can either be a petroleum engineer for Exxon mobile or prosecute Exxon mobile for polluting communities. It's a wild position to be in, but try to make connections to why it's important to you. Because not everybody's environmental science looks like everybody else's environmental science. 
I know a lot of people in my class wanted to do geology because they liked to hike and camp and they wanted to preserve the wilderness for that purpose. And that's valid, I want those things too. For some people in my class, environmental science was also connected to their lived experience with environmental racism and contaminated neighborhoods, or because they have family affected by climate change. I had a friend who is now an environmental educator who double-majored in communications and environmental science because she experienced first-hand how inaccessible a lot of the language is to people in her own community. For me, I grew up watching my brother develop asthma, and my mom never trusting the water that came out of our tap. It's different for everyone.
Environmental science is so important. It's such a big responsibility that we are fighting for this, whether it is conservation, whether it's environmental justice, whether it's recycling. It doesn't matter. It's all valid and it all needs to be fought for.