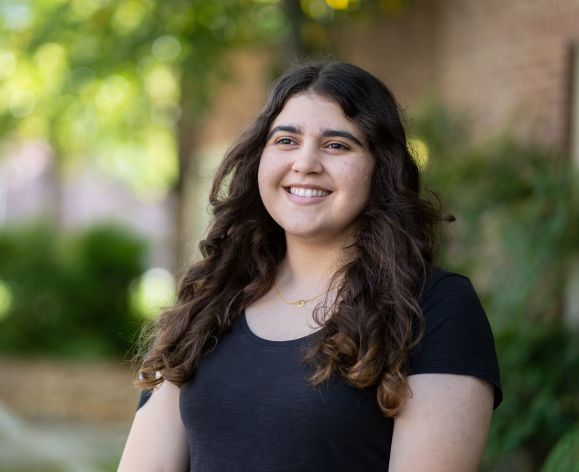 Outstanding Student
Maddy Moghadass
Major: BA in health, exercise and sport science; minor in psychology
Graduation year: 2023
Other activities/clubs: Phi Epsilon Kappa, Pre-PA Society, Success TRiO
Hometown: Hemet, CA
How did you hear about Pacific?
Pacific reached out to me because they thought I would thrive in their program. I did more research into it, and I actually applied to be a biological sciences major or a health, exercise and sport science (HESP) major. I ended up getting into HESP and it worked out a lot better.
What helped you to make the decision to study at Pacific?
I think the main thing that helped me was the Tiger Day [open house] in 2019. I was able to see the campus, and I got to meet Dr. Mark VanNess and a couple of students at that time. They told us a lot about the program. One of the students was actually going to a physician assistant (PA) school. That helped me a lot, because I also want to go to a PA school and become a physician assistant who works with a team of doctors and nurses to provide health care for their patients. 
The smaller classroom sizes and just a smaller campus also helped a lot to with my decision, because the other universities that I was looking at had about 40,000-50,000 students. I also like how Pacific looks like an East Coast school, but it's on the West Coast so it's not too far away for me and without the cold and wet.
What sparked your interest in HESP?
When I was filling out the application for Pacific, I was looking at the website for the different majors that I could do, because for a PA school it's good to have a science degree, whether biology or kinesiology or something like that. I looked more at the HESP classes, and it was kinesiology, exercise physiology, nutrition and things like that. Those classes would be better for a PA school and sounded more fun than the microbiology or ecology I would have to take as a biology major.
What hands-on opportunities does the HESP program offer?
This major has a lot of hands-on work and even in the very first class you take, exercise physiology, you do a lot of hands-on lab work. You're learning how to take blood pressure with the blood pressure cuff. You get to actually observe clinicians such as a physical therapist, an occupational therapist, a doctor or a chiropractor. So, it's a lot of going into the field. 
You can take electives. For instance, I'm taking biomechanics where we're going to be doing a lot of work with the Proteus machine used in occupational therapy.
Tell us about your own experiential learning at Pacific.
So, I actually just came from my clinic at the outpatient therapy at the Dignity Health's St. Joseph's Hospital in Stockton. I'm observing an occupational therapist for one of my classes because I'm also interested in occupational therapy (OT). It's a course requirement at Pacific to get 75 observation hours. I'm lucky that the clinician that I observe is kind to let me do more hands-on activities, like helping with setting up and cleaning the equipment.
How did you find this observation opportunity?
I went to Dr. Peg Ciccolella and I asked where I could get observational hours done for the class and she put me in contact with someone over at the St. Joseph's Hospital. It was lucky that I was one of the first students to email the clinician, so she said "Yes." That was actually last semester, so I've just been developing a relationship with her over these few months.
Are there any student organizations on campus which help you get career-ready?
I'm the secretary for the Pre-PA Society where we provide our members with information and resources to get ready for a PA school. For example, we practice suturing skills with suture surgical kits. We go over things like applying to PA schools. We actually had two people from Pacific's Sacramento PA school speak to us over Zoom. And recently, my professional fraternity Phi Epsilon Kappa had a PA student from Stanford speak to us and that helped a lot in terms of thinking about my career. 
I'm also in the Success TRiO club at Pacific for first-generation and underrepresented college students or college students who have disabilities (have Type 1 diabetes). They do a lot of workshops on things like how to set up student loan payments and they provide a lot of resources, like study groups and a lot of scholarship opportunities pop up.
I mean, if you would have told me when I was still a senior in high school, that I'd be a part of these clubs and organizations and getting actual experience in the field, I would have thought that you were crazy. I'd have thought, those chances happen only at a big school.
In your opinion, what stands out about Pacific?
I think it's just the sense of community and family that you build here. Especially in the HESP department, we're in one building close together and we get to know each other better. We're just helping each other with our experiences and the professors help a lot, too. They are our number one supporters.
I think one memory that will stay with me forever is when we came back onto campus after something like three semesters on Zoom. Just being able to see everyone again and actually being in a classroom was so special. I'm appreciating the fact that I am able to go to an amazing school like Pacific and have amazing professors to teach me and be surrounded by amazing peers. That feeling of just walking into the Main Gym again after being away for so long is something I will always remember.
What are your plans after you graduate?
I'm definitely looking into Pacific's Master of Physician Assistant Studies or Doctor of Occupational Therapy programs because I read a lot about them, and I know that they do give priority to Pacific alumni. But I'm also looking at international OT and PA schools, like in England, because I have a dual citizenship.