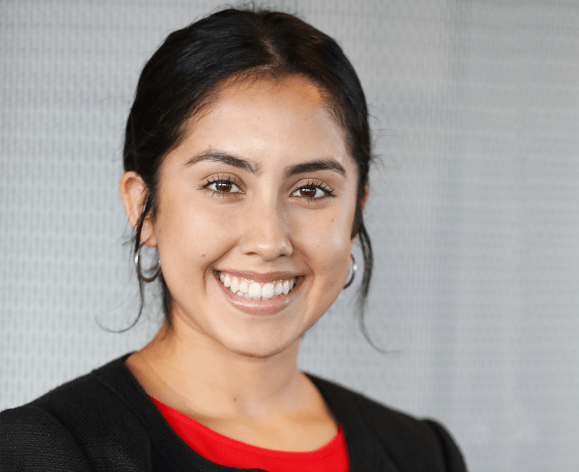 Success after Pacific
Melissa Cortes Trujillo
Graduation year: May 2020
Major: BS, health exercise and sport science 
Student clubs/orgs: WEFit – Pacific's Wellness Education and Fitness Club
Hometown: Lodi, CA 
First generation and transfer student
Currently a grad student:
Duke University School of Medicine 
Doctor of Physical Therapy Division, Class of 2023 
When did you get interested in physical therapy? 
I think it was a combination of my whole childhood. I come from a low-income Mexican family and I'm a first-generation college student. Navigating health care growing up, there wasn't much diversity within the field, a lot of the health care workers typically were white. Once in high school, I was already sure that I wanted to be in health care just because I wanted to take part in diversifying it. That was very important to me, especially as a Spanish speaker, I wanted to close that language barrier that was so common, at least when I was a child. 
High school was my very first encounter with being on a sports team, like running track and cross country. I loved it so much, the athleticism, the training, the exercising. So, I would Google search what I could do in health care that's sports related, and I found a physiatrist, which is an MD degree, and then physical therapy. I did start undergrad as a kinesiology major in my first years of college. That's when I started to understand that physical therapy is not just sports, it has many other fields and specialties, and then I liked it even more. I thought that if I'm not into sports my whole life, I can easily change it to cardiovascular, geriatrics, pediatrics, oncology or neurology.
Why did you choose Pacific?
I wanted to stay close to home, but I also really liked small classrooms and a small teacher to student ratio. The program itself included required clinical experience and I was going to need that for a physical therapy school. I felt that Pacific would have connections to local clinics and hospitals and that would help me with networking and give me opportunities to meet other physical therapists in the community. I thought, as a first-generation college student, it was going to give me the best guidance and structure that I didn't have at home.
I was a transfer student from San Joaquin Delta College, right down the street from Pacific. I was getting all my GE completed, and I was just going back and forth with my options, and I thought that Pacific was going to help me with what I wanted to do. With physical therapy, you definitely have to form some networks, especially for the application requirements and letters of recommendation.
What was special or unique about your education at Pacific?
The small classrooms and how quickly everyone learned each other's names. I remember the first time I met with Dr. Courtney Jensen and Dr. Mark Van Ness, they already knew my name, which I thought was so crazy. The faculty were very professional, but still very friendly, and I think that's what helped me approach them and ask for help. The fact that classes were small allowed me to form better relationships with the faculty, and for more networking. Whenever I needed anything, they knew exactly what information or referral to give me.
Did your hands-on experience at Pacific help you transition to the grad program at Duke?
I feel like I have been able to apply all my Pacific lab experience in my grad school. For example, we took blood pressure in many classes at Pacific, and I always used to think, 'Oh my gosh we already did this, why are we doing this again?' Now, I'm very thankful for that, because we take blood pressure in my grad program all the time.
Also, at Dr. Peg Ciccolella's class, we had to observe a health care provider which was very helpful because it basically gave me a great option to see another clinician practicing. Because Dr. Ciccolella's class was small, I was able to talk to her directly about what kind of observation experience I needed and get resources like clinics who were willing to take on Pacific students.
I was also involved in WEFit Club and worked closely with St. Joseph's Hospital in Stockton. I think that gave me more insight into hospital settings and again networking with other healthcare professionals, because we had physical therapists who supervised us. That was a major benefit from Pacific that has rolled over to my current graduate program. 
What is the one most important skill you learned at Pacific? 
Honestly, I think it would be communication and networking. One experience that stayed with me was from the time when I was the president of the WEFit Club in 2020. Dr. VanNess wanted us to collaborate with a local fitness club to create a community health fair. That ended up not happening, because of the COVID-19 pandemic, but first Dr. VanNess held a meeting on Pacific campus to talk about that collaboration with the fitness club's managers and representatives. Even though I was just a student, Dr. VanNess invited me to participate as the president of WEFit. I truly appreciated his respect and his valuing my input at the meeting. 
What is your plan after you complete the grad program at Duke University? 
I will be back in California for my third-year clinical experiences. After that, once I pass the State Board exam for a licensed physical therapist, my goal is to work in the Central Valley. The valley is just so diverse, I think it's time that our health care system reflected the patient population they treat. I want to take my ability to speak Spanish and the knowledge I'm gaining from Duke and take that back to the community that raised me. Also, as a Latina, I want to diversify the health care and be more relatable to my future patients and to kids who look like me and who might want to go into health care one day. 
What piece of advice would you give to students who might want to pursue a similar path?
Honestly, if I can do it, they can do it, too. I would ask them to reflect on the fact that currently only 3.5% of physical therapists in the U.S. identify as LatinX. If they want to do something about that, they are very capable of doing so! If they do join Pacific, they will get the resources, networking opportunities and knowledge to apply to grad programs and become physical therapists.