About the Program
The department of Modern Languages and Literature offers majors and minors in Spanish, French, Chinese, and Japanese, and additional language courses in German. About 60 to 70 percent of our students are double majors. Our classes are small and you have the opportunity to get to know your classmates and professor, always using the target language. Our professors are highly experienced in their fields and have traveled widely.
Why Study A Second Language?
Learning another language is the key that opens the door to new cultures, perspectives and opportunities. It eases and enhances our ability to communicate with each other, and makes it possible to become a more fully-informed citizen of the world. In today's global society, mastery of language is a critical skill for personal and professional fulfillment.
Three-Year Degree Option
You have the option to earn your bachelor's degree in three years. Do your part to stay on track, and you could shave a year off your undergraduate work. That means significant savings on tuition and you get a jumpstart on your career.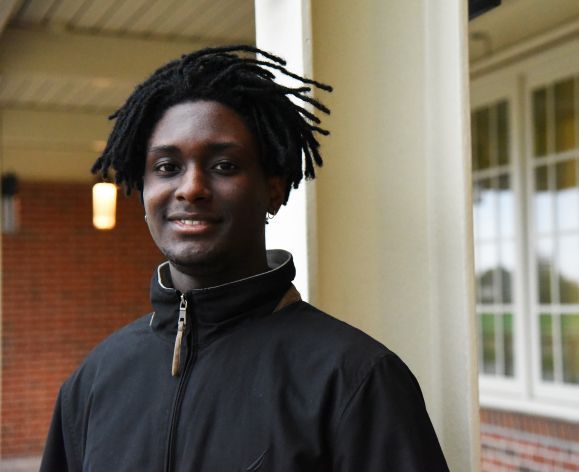 Outstanding Student
Owen Lawrence
Owen Lawrence is an example of how many Pacific students double major by pairing one major with a language. In Owen's case, he is majoring in engineering and Chinese.
Our students enjoy each other's company inside and outside of the classroom. With clubs and organizations dedicated to helping students explore their love of language, our students have created a vibrant community that amplifies their educational experience at Pacific.
Honor Societies and Clubs
Founded in 2011, Omega Eta Epsilon is a Greek-letter honor society unique to University of the Pacific, and is open to students who are majoring or minoring in any language, as well as to those students who are majoring in speech language pathology. The mission of Omega Eta Epsilon is to establish recognition and promote higher learning in linguistics, and bring community and friendship among members.
The University has chapters of two national honor societies for outstanding work in a language, literature and culture: Pi Delta Phi for French and Sigma Delta Pi for Spanish. The Jan Good Award is presented to winners of an annually posted essay contest in French or Spanish. The MLL Annual Awards night celebrates achievement in all of the above languages.
Revived in Fall of 2014, Pacific's French Club celebrates la vie française through film screenings, cultural events, field trips, and other social activities. Recent activities included a screening La Belle et La Bete (2014), with a costume parade and authentic French desserts, and a screening of Joyeux Noël, in memory of the 100th anniversary of the outbreak of World War One. For more information on the French Club and its activities, please contact Cosana Eram.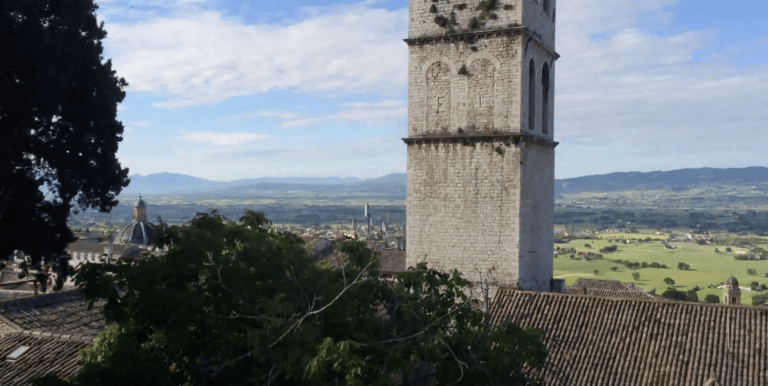 Summer Immersion Program
Studying Abroad
If you're thinking of studying abroad, you've come to the right place! We strongly encourage our students to participate in a semester abroad or in one of the summer language immersion programs in Guatemala, Italy or China. Pacific was ranked as one of the best institutions in the U.S. for students interested in studying overseas.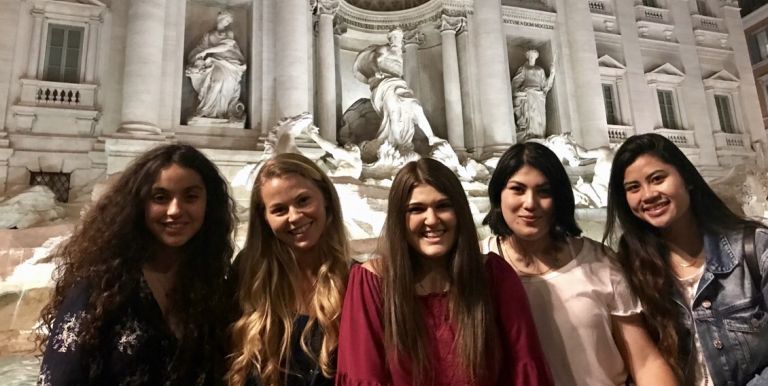 Summer Immersion Program
Trevi Fountain
Visit iconic landmarks such as the Trevi Fountain in Rome.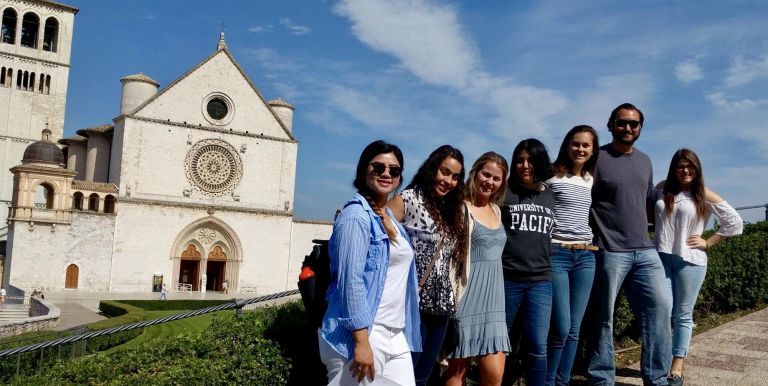 Summer Immersion Program
Assisi, Italy
In this program, students stay in the beautiful Umbrian hill town of Assisi, home of Saint Francis. They will receive 140 hours of intensive small-group instruction with highly trained native speakers. During their stay, they reside in shared apartments with kitchens.
Career Paths
Modern Language and Literature students graduate with real world language proficiency and a cultural knowledge that give them a unique edge in the global economy as they step into their futures. Our graduates succeed in careers in translation, interpreting, business, international relations, law, education, health professions, technology and finance. Those using a second language in their jobs enjoy an average of 8% higher earnings over their monolingual colleagues.
Our alumni find many ways to pursue their passions and build a successful career using their knowledge of a second language. A recent survey of Modern Languages and Literature graduates found that our alumni are working for companies and organizations that include:
Amazon.com
amFAR
The San Diego Padres
Entertainment Voice Magazine
Internews
Kiva Microfinance
The Cordes Foundation
Relief International
Deloitte DTBA
Merrill Lynch
LinkedIn
Silicon Valley Community Foundation
Whatever profession you enter, learning another language opens the door to a new culture, and new way of seeing the world. In our increasingly global society, the value of being able to communicate with people from different cultures and nations cannot be overestimated.
Success After Pacific
Emma Tully
Emma majored in Spanish and international studies, and she's taking what she has learned to help immigrants as an interpreter in a law firm.
"I did a combination of majors within the Spanish department and the School of International Studies as well as anthropology. I knew at a very young age that I wanted to learn more about the world and globalization, language and how it works. I felt like the School of International Studies would provide that."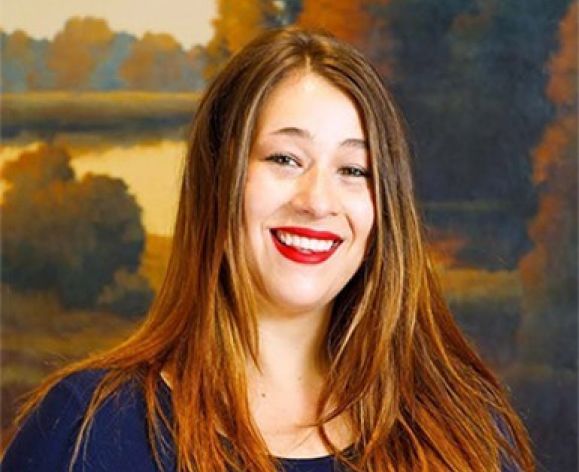 Which Language Should You Choose?
The Department of Modern Language and Literature offers language, literature and cultural history courses in Chinese, French, Japanese and Spanish. Programs are offered leading to a major or minor in Asian Studies, Chinese, French, Japanese or Spanish. Double majors across disciplines are encouraged. Some literature, civilization, film and interdisciplinary courses are taught in English translation. 
The curriculum in Spanish includes beginning, intermediate, and advanced level classes for both native and nonnative speakers of Spanish. Spanish linguistics, Hispanic literature, and civilization courses are complemented by experiential learning opportunities. All courses are taught entirely in Spanish.
The curriculum in French includes beginning multi-media based language classes, intermediate courses that focus on culture and language, advanced language and composition courses, surveys of literature and civilization, theme-based advanced courses that cover French and Francophone literature and cinema, and other cross-listed courses such as the History of French Cinema. All courses are in French unless otherwise specified.
This major allows students to develop their language skills in Chinese or Japanese while simultaneously gaining significant knowledge about the Asian context. Students share a strong interdisciplinary curriculum and choose to concentrate their language study in Chinese or Japanese. The non-language curriculum will be taught in English and includes film, literature, history, politics and religion. The major requires one semester of study abroad in China/Taiwan or Japan. The minimum number of units for the major is 34.
The mission of the Latin American Studies Program at Pacific is to create an academic environment that engages faculty and students in the interdisciplinary study of Latin America and Latinx culture, via invited lectures, films, workshops, round tables, and other cultural events as well as the minor in Latin American Studies. The interdisciplinary minor is intended to provide students with cultural competencies that will develop their knowledge of the region and provide a competitive advantage in any profession.
Program Highlights
Minor in Latin American and Latinx Studies
Lectures by international personalities and intellectuals such as: María Hinojosa, Juan Villoro, Guillermo Gómez-Peña, Juan Carlos Rulfo, among others
Art exhibits
Latin American Films
Enhanced leadership and career opportunities
Degrees Offered
Bachelor of Arts in French, Concentration in Language and Literature
Bachelor of Arts in French, Concentration in French Studies
Bachelor of Arts in Spanish, Concentration in Hispanic Language and Literature
Bachelor of Arts in Spanish, Concentration in Spanish Pedagogy
Bachelor of Arts in Spanish, Concentration in Cultura y civilización
Bachelor of Arts in Asian Language and Studies, Concentration in Chinese
Bachelor of Arts in Asian Language and Studies, Concentration in Japanese
Minor in Chinese Studies
Minor in French
Minor in Japanese
Minor in Spanish
Minor in Latin American/U.S. Latina/o Studies