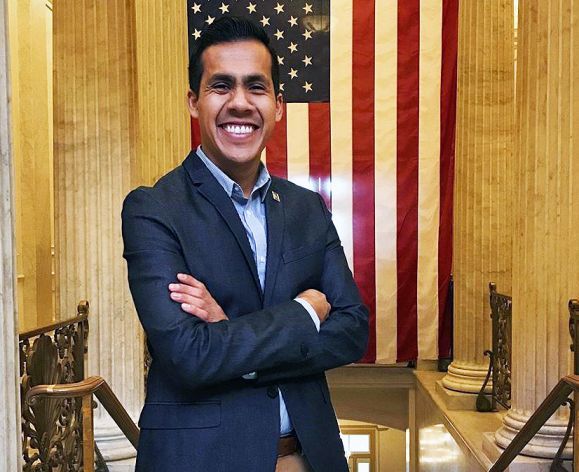 Success After Pacific
Mario Enriquez
Major: Sociology
Graduation Year: 2010
Oraganization: LGBTQ Victory Institute 
Hometown: Lathrop, CA
Mario Enriquez is the director of domestic programs at the LGBTQ Victory Institute in Washington, DC. 
Q: Tell us about the institute.
A: The LGBTQ Victory Institute is an organization that supports and trains LGBTQ folks across the country who want to run for elected office at every level of government. Victory has existed for 28 years.  
Q: Are there any recognizable names who have come through your organization?
A: Sen. Tammy Baldwin became the first LGBTQ senator in the U.S. Senate. She represents the state of Wisconsin. And in this past year, in the 2018 mid-term elections, we elected the first openly gay governor, Jared Polis, from the state of Colorado as well as making history for Danica Roem, Virginia state delegate who became the first openly transgender person to take elected office in the United States. 
Q: How did Pacific help prepare you for this job?
A: So many ways. I attended a Latino youth conference sponsored by the university. A woman by the name of Ines Ruiz-Huston - who still works there - took me and three students. That conference and numerous other conferences that Pacific gave me the honor to go to, really helped develop my networking skills, really got me thinking about social justice, how to support the next generation of students, higher education - things that I've always been passionate about. The university gave me these opportunities to go out, to explore how different organizations function, to get out of the state of California and see the world, and it really inspired me to get more involved. Those conferences, my classes and all my involvements off and on campus made me realize that social justice was what I wanted to do. I went to that first conference when I was a junior in 2008, and I got a job to work for that very same organization after college. Since then it's been getting more and more involved in youth groups, social justice, higher-education-type work.  
Q: Was there a professor who was particularly impactful?
A: I would say, Dr. Marcia Hernandez, a sociology professor. I think now she's more involved in College of the Pacific's leadership. Her prejudice and racism class (Race and Ethnicity SOCI 141), I tell all students whenever I go back to visit, if you can fit it into your class schedule, take that course. That class changed my whole trajectory, and I feel like I wouldn't be where I am today had I not taken that class because it really gave me the chance to have conversations that I normally wouldn't have in a classroom, let alone outside of the classroom.
Q: Could you articulate for us why it's important for the LGBTQ community to be represented and have a voice?
A: Here at Victory, one of the things I learned is that we need roughly 20,000 more elected officials to represent our community in government at every level. Nowadays we know that representation matters at all levels of diversity, the wide range of diversity. So many of our voices need to be at the table to pass legislation that supports equality for all, whether it's the color of your skin, whether it's who you love, what you believe in, who you worship. It's being able to know that we can get people in office to say, 'Hey, let's consider this piece of legislation because it's going to support so many countless communities that have never had a voice.' And by putting people in positions of power, we know we're all represented. 
Q: Could you speak to Pacific's values of diversity, inclusion, civility and respect?
A: I always credit Pacific with so much in terms of diversity and respect and civility. I think I've always naturally been an empathetic person, but I think the fact that I was able to explore so much at Pacific gave me that chance to connect with people in my own way and show who I am - being low-income, first-generation and sharing my story to say I'm being really vulnerable but I also want to believe that by being vulnerable I can change minds and change hearts to say, hey, this is what's going on in countless communities; maybe you weren't aware. Or maybe vice versa. Maybe I can open up and say, wow, I didn't know that these things existed until I meet certain folks.
I wasn't part of the community when I was an undergraduate, but I've always had respect for the LGBTQ community at Pacific and in Stockton because I knew we all face challenges and similar struggles and by finding those struggles, I was able to find unity within that and realize we're a lot more alike than I had thought, and it changed my perspective.
Then in recent years, I had come out and I understand it a little differently and now I'm a part of this community. What can I do now to change minds and to change hearts? I'm still Mario. I'm the same guy you met when I was an undergraduate, and I'm still trying to find ways to support all our communities. I think diversity and civility and respect go hand in hand and in many ways, full circle.