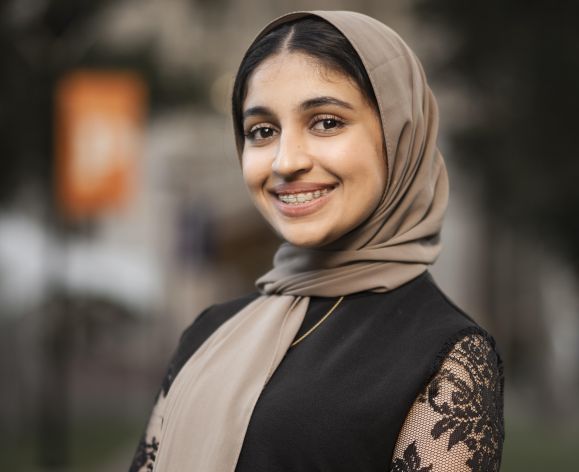 Outstanding Sociology Student
Rahila Shah
Graduation Year: 2022
Major: Sociology
Minors: Pre-law and communication
Hometown: Stockton, California
Activities: Pacific Action Leader, Pacific Volunteer Center, Muslim Student Association vice president; Middle Eastern Club treasurer; Student worker at the Disability Center and a tutor for Upward Bound program
Favorite Off-Campus Place: Thai Me Up restaurant
Q: What made you choose Pacific?
A: Coming from Stockton, UOP was near me. It was familiar, and I fell in love with the campus. I also tend to learn better in smaller class sizes. You get to connect more with professors and other students. 
Q: Why did you choose your major?
A: It's actually a very personal story.  When my grandma was really sick, I had to step up and complete all the necessary paperwork. However, at the Stanford hospital, we got a social worker who helped us at every step along the way. She inspired me and I wanted to do the same. I want to remove the burden on families and be able to help in any way. 
Q: Who has inspired you at Pacific?
A: My sister, Sahila inspired me. She is also a student here at Pacific. She helped guide me and see where I fit best. 
Q: What do you like best about Pacific?
A: I like the campus size because it has allowed me to connect with different people and build friendships. I also like the fact that professors know my name and ask me how my day is going; it's a caring environment.
Q: What is your favorite memory about Pacific?
A: The Brickyard series hosted by the Associated Students, Arts & Entertainment branch (ASuop A&E) are my favorite memories. Going to the Lair with my friends and watching diverse cultural and social performances. The belly dancing Brickyard was my favorite. 
Q: What experiential learning opportunities have you had?
A: I've been interning and volunteering at the Prison Education Program for two years now. I go to correctional facilities in San Joaquin County and help guide juveniles on resources they can use when they get out. I also help them with resume building, finding jobs and preparing them for next step. 
In addition, I was a summer research intern with the city of Stockton at the mayor's office.
I handled communication among the community stakeholders and policy makers, took care of the meeting agendas/ notes and marketing material.
Q: What advice would you give an incoming student who wants to pursue your major?
A: Take as many classes related to sociology as possible. That will help you get a better understanding of the major and you'll get a full experience. Also, interact with people from the major - either alumni or current students for guidance and advice. 
Q: What do you plan to do next?
A: I want to apply to graduate school after graduation. I am applying to specific programs in medical social work.