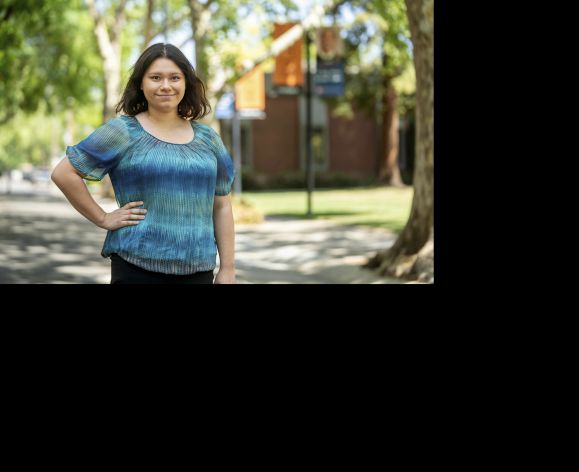 April Chai
Graduation Year: 2022
Major: Media X
Hometown: Dixon, CA
Internship: Livermore Shakespeare Festival
For Media X major April Chai '22, Pacific Innovation and Entrepreneurship Summit (PIES) was a night of unbelievable success. Not only did she compete as a finalist in the Pacific Pitch competition with her horror film concept "The Monster in the Forest," but she also won the first-place prize of $1,000. 
Pacific Pitch is a Shark Tank-style competition where students deliver a five-minute pitch describing their products, service or business to a panel of experts. It's an exciting part of the overall PIES event, and it highlights the amazing work Pacific students are doing in the field of entrepreneurship.  
April agreed to sit down with us and talk about her experience at PIES and what it's like being a Media X student at Pacific. 
Q: How did you discover PIES? 
A: Currently, I am in the advanced film production class with [Media X professor] Kevin Pontuti, and since Kevin is one of the directors of PIES, he had us all submit our pitch decks. The class was specializing in the horror genre, so there were many horror film submissions.  
Q: Can you tell us a little about your pitch? 
A: The project I was pitching is called "The Monster in the Forest." It's about a woman who is on a walk near a forest, and she finds something that belongs to her husband who disappeared a few weeks ago. She goes deeper into the forest following this trail of sort-of breadcrumbs to try and find him. Along the way, however, she begins to believe she is being stalked by some kind of crazed monster that keeps trying to stop her from going down the path. That's basically the premise. The end is supposed to be really cool, but I don't want to spoil that for you.  
It's kind of just her journey through this forest and realizing things about her husband and their relationship and what the monster really is. There's a lot of layers to it.  
Q: What was it like pitching your movie and winning first place?  
A: I did not expect it! I didn't expect to be one of the finalists for the pitch competition either. When I got the email telling me I'd be competing during the event, I thought everyone in my class had also got that email. So, I was surprised I was one of the ones competing for money. 
When it came to pitching live, I was so nervous beforehand. I definitely got a lot of advice from professors, and they encouraged me to be confident. There were so many good pitches that I didn't think I would be the winner.  
Q: Is the film completed already?  
A: I just came up with this idea this semester. I haven't started writing anything out yet, but I did complete the pitch deck, and I have an idea of how I want the story to go.  
Q: What are some films that inspire your craft?   
A: There are a lot of films that inspire me. I love "La La Land." The color schemes, the production design, and the shots really made me love the film. I love the dreaminess and the feel of it. It's one of my favorite films.  
I also really love "Mank." We watched it for class, and I love that it was filmed this year, but they did it all in black and white. It looked really cool. And all the little details made it a great film.  
Q: If you could describe PIES in a sentence, how would you describe it?  
A: PIES is a fun and interesting event that teaches you a lot about innovation and entrepreneurship. 
Q: What advice would you give someone who is thinking about participating in PIES next year?   
A: For Pacific Pitch, you should definitely make a script and memorize it; when you pitch, you'll have a general idea and can be more concise. I'd also say you should talk to any resources you have, like professors who may be experienced with pitching. Pitch it to your friends and family, and they can give you feedback.  
Q: What advice would you give to a prospective student considering Media X as a major? 
A: Be prepared to try all sorts of different things. I've been able to try so many things that I had never considered before, and it gave me a lot of new passions. When I first started out, I wanted to be in theater and be an actress. After three years of trying everything, it helped me aim my goals toward filmmaking.  
The thing about Media X is that it teaches you a whole wide range of specialties across different industry fields. The major is really valuable to me because of that.