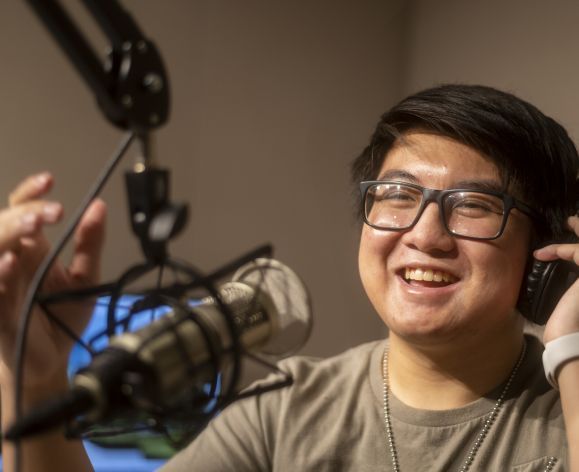 Outstanding Student
Benny Huynh
Graduation Year: 2021 
Major: Communication and Media X
Activities: Director of Prowl TV, ASuop; Social Media Assistant, Pacific Alumni Association; Social Media Chair and Brother, Beta Theta Pi; Treasurer, Photography Club; Secretary, Film Production Club; Member, Kilusan Pilipino; Vice President, Lambda Pi Eta
Hometown: Stockton
Favorite Off-Campus Place: Midnight at Burnies
Q: What made you choose Pacific?
A: I chose Pacific because it gave me the opportunity to connect with my hometown, Stockton.
I got to explore more of the town through Pacific and got familiar with new locations that I didn't previously know. Also, it was close to home!

Q: Why did you choose your major?
A: At first, I got into Pacific under applied mathematics. However, before accepting my offer, I switched to communication, and then added Media X as a double major after my first year.
My passion for digital media and content creation led me to explore the possibility of double majoring.

Q: Who has inspired you at Pacific?
A: Dr. Dong, my adviser at the communication department has inspired me at Pacific. He gave me a new perspective on communication as a major and helped me figure out all the requirements for my double major.
 
Q: What do you like best about Pacific?
A: The small class sizes and the fact that the campus feels large but has such a tight knit community. You meet students that have different personalities and pasts that become part of your journey at Pacific.
Q: What is your favorite memory about Pacific?
A: It has to be Homecoming Concert from the 2019 weekend. I was up on stage taking pictures of Homecoming court while my fraternity brother and fellow Communication major, Jacob Gray, was cheering me on: "That's my brother!"
Q: What experiential learning opportunities have you had?
A: I've had multiple on-campus opportunities that have shaped my college career. I interned at Pacific Tiger Broadcasting, the online radio station hosted at the Communication Department. I started as a Web and Graphic Designer, and later got promoted to Operations Manager. I am currently a Social Media Student Assistant for the Alumni Relations Department, and I have been there since I began at Pacific. I am also part of ASuop, in the Strategic Marketing Department as the Director of Prowl TV, ASuop's videography team.
Q: What advice would you give an incoming student who wants to pursue your major?
A: Find something within communication that interests you and run with it. I chose social media and every single research paper I've done is within the realm of social media: social media and politics, social media and language, social media and communication competence, social media and information overload. Research the topic you love and that will set you up for graduate school.
 
Q: What do you plan to do next?
A:  I am graduating a semester early to get a head start in finding a job. I'm hoping to be in the marketing and communications department of a company or organization.