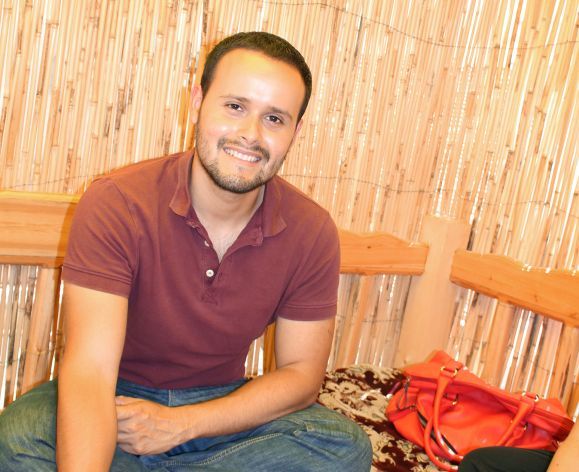 William Castillo Guardado
Grad Year: 2010
Major: International relations; Japanese
Minor: Anthropology
Organization: Will is a private attorney in a law firm in Oakland primarily doing business litigation, employment law, real property disputes and business employment 
Student organizations: Phi Beta Kappa 
Favorite place on campus: The circle of columns 
Since he graduated from Pacific in 2010, Will Castillo Guardado has lived a full life. While at Pacific's School of International Studies, he traveled to Japan to study the language. 
Law courses offered as part of his SIS curriculum turned his interest to humanitarian law which he later pursued for his postgraduate degree at the Hastings College of the Law, San Francisco. His professional career has taken him to Guatemala and Tajikistan where he worked on refugee and global humanitarian issues. 
Q: When you decided to go to college, did you know where your career was going to take you? 
Castillo Guardado: No, I did not. What attracted me to SIS was the study abroad piece. I had done a summer study abroad in Okinawa, Japan, when I was in high school and I loved it. So, when I was looking for universities, I liked that there was this centered focus at SIS on studying abroad and also on learning multiple disciplines at once.  
At the time I didn't know what I wanted to be, but I felt like I wanted to have a skill set so that I was prepared for whatever field I wanted to enter into. I remember seeing the brochure from Pacific which explained that at SIS you would learn about economics, anthropology, politics and history, and that really drew me. I felt like as long as I have skills I can decide later. And I feel like that's what has happened. 
Q: When did you decide to pursue the law? 
Castillo Guardado: At Pacific, I was trying to dip my feet into a lot of different things. Because SIS was offering them, I took courses in genocide and the law and terrorism and the law through McGeorge law school. They were my real first foray into legal field.  
Immediately after I graduated from Pacific, I went to UC Hastings in San Francisco where I was really focused on immigration refugee issues and global humanitarian law. I did research for a professor on citizenship law in the Philippines, Costa Rica and Japan, and I did work in a nonprofit immigration in LA.  
Q: You did a lot of work abroad. How did that happen? 
Castillo Guardado: When I graduated, I wanted to work abroad. At Pacific, that was something professors highly encouraged the students to do. During law school, I had done work for the refugee and human rights clinic and as part of the clinic I worked with a professor on a fact-finding mission to Guatemala. We interviewed officials at the UN, the Guatemalan government and then civil society related to laws implemented in Guatemala to protect women from violence.  
It was very intense, but I feel like I had learned that skill set at Pacific--skills that helped me with going abroad, being in whatever situation you're thrown but really learning about others, learning about their problems, being very keen about cultural differences and knowing how that affects your work.  
It was very helpful to just be on the ground and apply everything I had learned at Pacific during my international relations major and my anthropology minor.  
Q: How did you end up going to Tajikistan? 
Castillo Guardado: That clinic in Guatemala was part of the Center for Gender and Refugee Studies at the university at HastingsCGRS was my first job after graduating.  When they received funding from UN Women to do a research project in Tajikistan and Afghanistan on violence against women.
I went there for eight months working for the Danish Refugee Council as a volunteer attorney representing their clients, mainly Afghans who fled to neighboring Tajikistan. It was a very difficult work. There were attacks when I was there, it was real life. But I wanted to have an impact and do something even if it helped a little bit, just like I learned at Pacific. That was in 2013. 
Q: What did you do after returning to the United States? 
Castillo Guardado: When I moved to New York, I got a job at the Vera Institute of Justice as an associate. Their attorneys were implementing a federal contract to provide services to all of the unaccompanied children in government's detention. We received funding from Health and Human Services to provide representation to those children, and also just to work with them through their legal cases. We weren't representing the children directly, but we were the funder for about 40 organizations all over the country. It was contract work and it involved working with government stakeholders.  
It was a little bit more on the policy side as well which was also something that I had learned at Pacific: how the law is implemented on the ground because we were talking directly to the government about how we implement a section of the United States Code that provides certain rights for these children. 
Q: What particular skill did you learn at Pacific that helped you in your professional career? 
Castillo Guardado: I think it's to be curious. In all of my classes, especially at SIS, our professors taught us to be curious, to always ask more questions, to always try to find out more, and to be excited when you're presented with something that you don't know. That was something very consistent throughout the education I received at Pacific. I think that when I graduated, that was the mindset that I had. The international relations program in particular taught me to be multi-disciplinary and I really do strongly believe that they ingrained that into us. 
Q: What piece of advice would you like to give to incoming students? 
Castillo Guardado: I would like for them to take advantage of all of the opportunities available at Pacific and to learn as much as possible. If any course seems remotely interesting, do take it. If any club, organization or campus group seems interesting, just join it.  
The connections you build are just amazing and the small class sizes mean that you can really get to know people who are experts in their field and they should take advantage of that. I think it's a really important piece of your education to have that communication with the people who are instructing you.