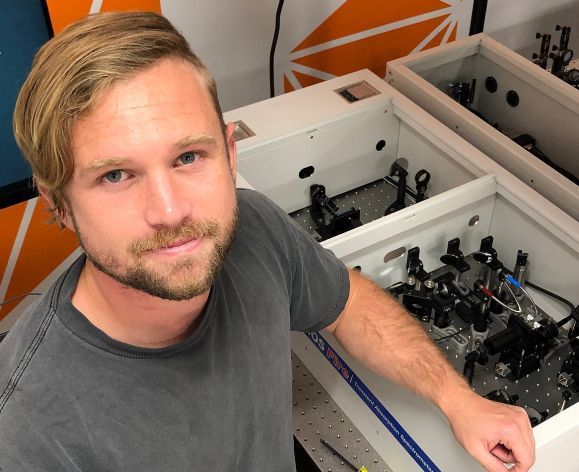 Success After Pacific
Alec Follmer
Grad Year: 2014
Major: Biochemistry
Current Position: Post-doctoral fellow at California Institute of Technology
Favorite Off-Campus Spot: Flip's Burgers
Alec Follmer graduated from Pacific in 2014 with a Bachelor of Science in Biochemistry. He is now a postdoctoral fellow at California Institute of Technology where he studies biochemical physics, specifically bio-inorganic chemistry. He examines electron dynamics in metal-containing proteins and how that affects your body's ability to metabolize drugs.
He created a legacy at Pacific by championing the student effort to give $10,000 towards the Stauffer Summer Undergraduate Research Program through the Alpha Chi Sigma chemistry fraternity. The John Stauffer Charitable Trust awarded Pacific a $1 million challenge grant to endow the chemistry department's undergraduate summer research program. The trust will match each dollar donated to the program through December 2021 to create a $2 million endowment. When fully funded, the endowment will support more than 15 student researches each summer.
Why did you choose Pacific?
I chose Pacific for a myriad of reasons. One of the major ones was that I was able to play water polo there on the NCAA team. 
Second, both of my parents went to Pacific, and while not the determining factor, it did influence my decision.  
And then also, Pacific had a PhD granting institution, meaning that the chemistry department did have ongoing and active research at the PhD level. So those three factors are predominantly why I chose Pacific. 
How did Pacific prepare you for what you're doing now? 
The combination of experiences I had at Pacific, I would say, are pretty unrivaled in terms of the opportunities I was able to take on. 
Water polo was great. It provided me with the framework, the team and the discipline that I needed to organize my schedule and all of those things. And the coaching staff is obviously great. My teammates were my best friends.
And then I was also part of Alpha Chi Sigma, which is the chemistry fraternity on campus, and that really got me involved with the students and with the chemistry department. That provided me a lot of opportunity to do outreach into the Stockton community. We did a lot while I was there.
The last thing is obviously the faculty. I mean the faculty are really the reason I was so successful in graduate school. They provided me with fundamentals that I needed to be able to succeed on an academic level. And my research adviser, Dr. Jianhua Ren, as well as Jerry Tsai, the two of them together really guided and pushed me to be successful in my research. They pushed me to be an academic.
What kind of research did you do as an undergraduate? 

When I was with Dr. Ren, I worked on computational and experimental approaches to determining the acid-based properties of small bio-active molecules. In more simple terms, I calculated how acidic or basic some of these small molecules such as ibuprofen and others synthesize. I also worked with Dr. Ren synthesizing small peptides and characterizing the acid base properties of bio-active small molecules, but with both computational and experimental approaches.
We were then able to provide other chemists with the numbers that can be used to carry out further experiments that may have more downstream effects that have to do with, for example, drug development.
Tell us what motivated you to raise money for the Stauffer Challenge. 
A number of things just came together at the right moment. I had heard that there was this Stauffer Foundation project, and they wanted my input.
For me, it was a big moment because it would mean that I got to leave Pacific in a better place than I found it — forever. I got to give back in a real way to the department that meant so much to me.

How did you do it? Who did you go to? 
We actually had accrued a large amount of that donation from notebook sales over multiple years since I had been there — on-campus sales of notebooks and food items. We did a lot of like bake sales and we sold a lot of used donations of stuff you would need to work in a lab like goggle, etc. So, it was basically on-campus sales. 
What is there about Pacific that you hope never changes? 
Oh, the people. I mean, the faculty in the community and the staff, I guess just the community of Pacific at large. There's just something about being there that really is just comforting. There is something about being on campus. You really just feel like you're at home. I always felt at home and safe at Pacific. 
I really enjoyed my time there. I went back this last summer and I just re-embraced that same feeling. I hadn't been back since I graduated, and it just felt great. 
Do you have a favorite memory? 
I have so many. I was very lucky to be part of a team that went to an NCAA championship in my last year. Being a part of the stuff for the Stauffer Foundation was tremendous. I mean, I made so many memories with so many friends, I can't really pick one.