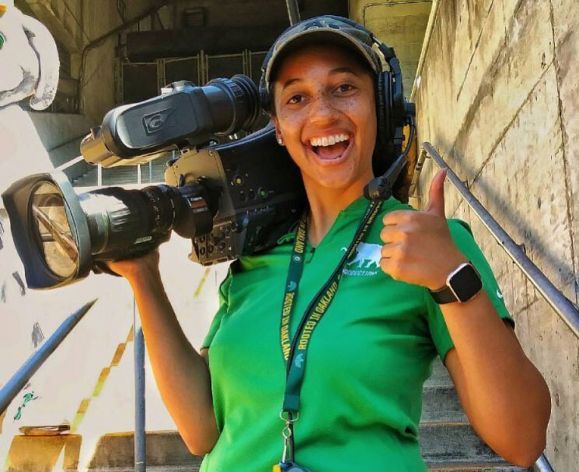 Success After Pacific
Drew Jones
Quick Facts:
Major: Communication
Grad Year: 2016
Organization: Oakland Athletics
Activities: Kappa Alpha Theta, team manager for the softball team. Helped re-charter Lambda Pi Eta. Vice president of the public relations organization, PRSSA. Member of the theater arts fraternity, Theta Alpha Phi
Drew graduated from Pacific with a bachelor's degree in communication. After getting her master's degree from USC, she was hired by the Oakland Athletics baseball organization as a video production assistant.
She initially wanted to major in biology at Pacific but wanted more time to explore her interests in sports and theater. Eventually she discovered she liked marketing and public relations, so she decided to major in communication.
 Q - Tell about your job with the Oakland A's.

A - The job itself has been a lot of fun. I work in the video production department, which works specifically with fan engagement. Some people work on social media but the majority of what our department does is we run the Jumbotron show. Anything that happens in live television also happens at a live game is shown on the Jumbotron.
They have a production assistantship, so our first year is spent learning just about everything within the department and then you can find your niche and see what you want to do. I enjoyed following the in-game host around because I have aspirations to be a sports reporter and also replay operations and graphics. 
 Q - What is the most satisfying thing about your job?

A - The people, I'd say. I'm from Alameda. So growing up an A's fan, getting to work for the team that I've loved since I was a kid is awesome, but actually getting to work with the people. Everybody's amazing, welcoming and they want to have a fun time while they're at work, so any time I go to work, it's a place I actually want to be. Especially as a young person, a millennial, we have to work many jobs to make ends meet these days and that one is definitely my favorite one to go to. 
Q - How did Pacific prepare you for your job?

A - I was sports editor and editor-in-chief of Pacific's student newspaper, The Pacifican. And then working for the softball team -- kind of immersing myself in sports -- really got me ready to do what I wanted with my life.
Within the communication department, I learned a lot about rhetoric. You learn how messages are crafted. When I got to USC, I learned the act of actually crafting those messages. It was nice to get the background because the thought process comes into play when you're creating a video package or you decide what should be slo-mo. What I learned in the communication department was crafting a story and then further in my career, I learned how to actually create the story and share it. And hopefully, people receive it in the way that I intended.
Q - Why did you choose Pacific?

A - My family was really impressed with the university when we visited prior to my freshman year. My mom was really impressed with how beautiful the campus was.  When I was coming into school, I was looking to be a biology major so I was really impressed with the biology facilities and the professors. I was really excited to leave home and learn. I could have started at community college, but I felt like Pacific was the right place for me and that's why I stayed. 
Q - Are there any experiences that stand out for you?
A - Some of my fun experiences happened on the softball team. Others happened while I was the sports editor for the Pacifican, getting to sit in press seating at the basketball games -- that was a lot of fun for me.
I was in a couple of productions within the theater arts department, a short film that they were doing. I got to participate in a musical that Dr. Alan Ray, who is a former communication professor had written. Those were things that were outside my comfort zone that I was really excited to be a part of. I hope I was able leave a legacy in the department in some way.