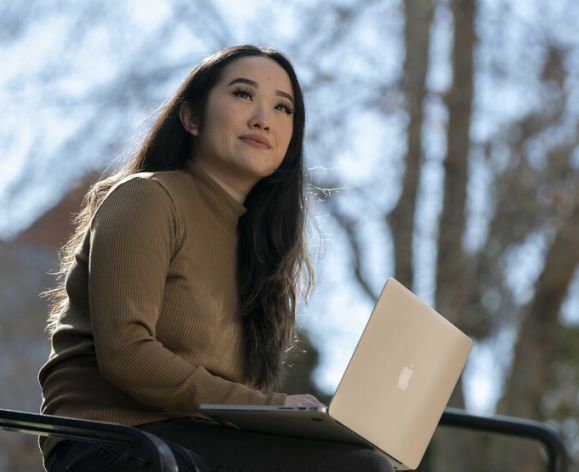 Carmen Huang
Grad Year: Fall 2020
Major: Psychology
Hometown: Stockton
Favorite Off-Campus Spot: Poppy Coffee
Carmen Huang came to Pacific as a transfer student. She now plans to apply to a PhD program and focus her research on race, ethnicity and socio-economic status.
Q: How did you adapt to Pacific as a commuting student?
Carmen: At first, being from Stockton and commuting, it was kind of hard to find friends. But I was able to get myself involved and that really helped with not having that feeling of loneliness. 
In addition, I also got a lot closer to my classmates because of the small classes. So that was definitely a plus and something that I definitely value and appreciate about UOP. 
I think joining the research labs really helped too because I was able to get involved in research. I also liked interacting with my peers and sharing this common interest.

Q: Why did you pick psychology as a major?
Carmen:  I've always been interested in psychology—more the clinical side. I used to be very interested in different mental illnesses and promoting mental health. So, that was my initial reason for choosing psychology. 
But after taking several classes, and being involved in research, I realized that maybe I don't want to go towards the clinical route; I want to be more involved in research. So that's something I really enjoy about psychology—just the different types of research in this field and the different routes you can go.
 
Q: What was your research project relating to COVID-19?
Carmen: The reason I wanted to do something COVID-related is because it's still happening right now so that we've all experienced it. I think the research and the findings will be relevant to anyone who comes across my research. 
During the beginning of the pandemic, I read a lot about how COVID affects different communities differently. From the articles I read even before doing my research, people from the Black and Brown community are disproportionately affected by this virus. So, I looked at the relationship between COVID and student self-efficacy, which is basically one's confidence in their ability to do well. Specifically, I looked at academic self-efficacy or confidence to do well in academics as well as their online learning self-efficacy, or their confidence to do well in online learning and studying which is relevant to what students are experiencing right now.
 
Q: What did you find out?
Carmen: I had three research questions. The first was just looking at self-efficacy. Another part of my project was to see whether people from different  social groups were also respond differently. So, the three social groups that I had were upper middle class, middle class and working class. I wanted to see whether students from these three different categories would respond differently to these questions.
My first research question was whether there were differences between self-efficacy among the different social classes.
My second research question was to see whether the stress and anxiety was different for the different social classes. And then the third research question was to see if their social class and their stress would explain the differences in their confidence to do well. 
So, we did find a really small, but still significant, positive correlation between higher social class and confidence do well. So, the higher social class they are, the more confident they are in their ability to do well in their academics and their confidence to learn online.
I also found that those in the upper class were more confident in both learning online and managing their time in online classes than the lower class.
The overall feeling of all social groups was that they were more confident in their ability to do well in in-person classes than in online classes.

Q: Has there been a professor who has been especially influential or encouraging?
Carmen: I want to say both Dr. Strickland Hughes and Dr. Grady just because I interacted with them a lot, not only in classes but during research in both their labs. I also conducted an independent research project with both of them. So, they both made an equally big impact on my undergraduate career.
In the classroom setting, they're very understanding. I've interacted with every professor in the psychology department, and they're all amazing professors.

Q: What would you say to students were thinking about applying at Pacific?
Carmen: I think [Pacific is a great choice] if they want to be involved in research directly with the principal investigator. So, for example, that would be Dr. Strickland-Hughes and Dr. Grady. I've heard that at a lot of big public colleges, you won't have the opportunity to interact with the principal investigator because classes are usually so big. But because Pacific is smaller, you're able to get that intimate interaction with your lab members and your professors who lead the labs.