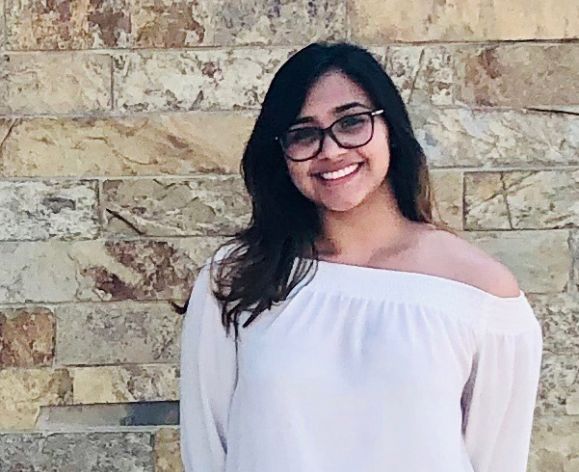 Outstanding Student
Bianca Piedro
Grad Year: 2021
Major: International Affairs and Commerce
Hometown: Stockton
This summer, I had the wonderful opportunity to intern for six weeks at the Consulate of the United States of America in Monterrey, Nuevo Leon, Mexico. I worked in the Commercial Service section assisting Principal Commercial Officer Eric Olson and his trade specialists.
My first week was difficult because I was the only intern at the consulate this summer.  I did not have many people to associate with besides my coworkers and other consulate members. I eventually caught on to the idea that it was up to me to take the initiative and explore Mexico.  
I became good friends with the Marines at the consulate and even met local university students who showed me around their beautiful city.
My days were usually really busy. I worked five days a week, Monday through Friday, from 8 a.m.-5 p.m. After work, I would usually rest and cook dinner or go for a run. On the weekends, I went out with friends and visited Monterrey's most popular areas, while enjoying the nightlife in Mexico.
In addition to adapting socially, I faced challenges with my identity during this trip, which was unexpected. I am Mexican-American. My grandparents and parents are from Mexico, and I share the culture with all the Mexicans, but I felt out of place. There were several interactions with locals who asked "Where are you from? You look Mexican but you do not have a Mexican accent." Or, "You have an American accent." Or "Are you mixed?" 
It was shocking. I was treated as a Mexican, but as soon as I began to speak, they knew I was not from there. They would know as soon as I used words such as "OK" or "yeah" and I knew I had to stop, but I am so used to speaking a specific way that I could not stop. I tried to remove the American part of me to fit in. But it did not work. I eventually began to embrace my two cultures. I had the privilege of speaking Spanish and English, and I learned that's who I am. I can relate to Mexicans, in terms of culture, but I also come from the United States and that is my home. 
I also learned about American-Mexican relations on a global level. The Commercial Service section of the consulate, where I worked, helps U.S. companies expand their businesses to Mexico in the easiest, most efficient way possible.
This internship allowed me to analyze why international business is so important to the economies and relationships of both countries. I got to experience how political arguments between the United States and Mexico can affect international business. For example, President Donald Trump said he would stop international trade with Mexico if President Manuel Lopez Obrador did not send more troops to the U.S.-Mexico border to stop illegal immigration. Most people here feel Obrador had to obey Trump because he knew how a trade war would damage Mexico's economy, especially if imports of U.S. goods were curtailed. 
The trade specialists I worked with told me all political arguments between the U.S. and Mexico affects their work. Many Americans refuse to expand their businesses to Mexico because of perceived political instability, lack of security, corruption and constant arguments between the two countries. U.S. companies fear instability and do not want that to hurt their businesses.
Now, I have returned to the United States with many wonderful friendships. I learned so much from them, in terms of point of view. They shared their knowledge about many political challenges, and I expressed mine. I appreciate having those intellectual conversations because it gave me a different perspective on the life of many Mexicans. I value the friendships created and I cannot wait to visit my friends in the future!