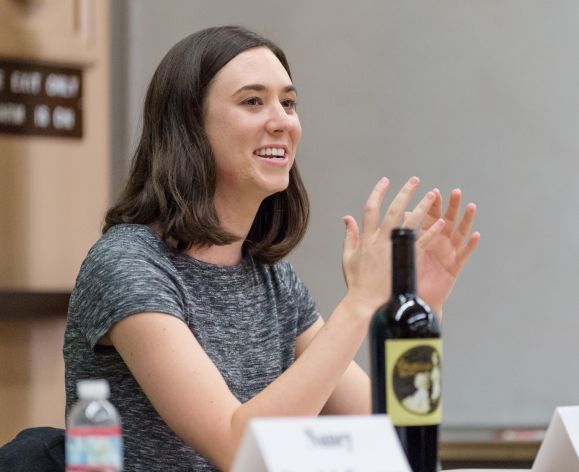 Kathryn Loper
Grad year: 2014
Major: International Relations
Current Position: Program Manager at LinkedIn
Kathryn Loper started working for LinkedIn in 2015 as a data assurance analyst. Since then, she has successfully worked her way up to program manager of the central operations team.   
Why did you choose Pacific?
I chose Pacific because I was interested in attending a smaller university. After visiting campus during Open House, I was especially interested in the School of International Studies and how focused the curriculum was on a variety of topics across international relations, politics and economics. 
I was also really impressed with the stories from students who were already in the program, talking about how they really appreciated the small classroom size and the intimate connections you can build with professors and fellow students.
Why did you choose international relations as your major? 
I was always interested in international politics in general. The School of International Studies had a variety of major options which catered to all my interests. One of the selling points was the study abroad requirement which I was really interested in doing.
How did Pacific prepare you for what you're doing now? 
One of the things that stood out when I was interviewing for my first position at LinkedIn, was the fact that I had the background in international communication. The cross-cultural coursework trains and teaches you practices across cultures, which sets you up for success when working in teams. 
Also, one of the things about the School of International Studies that really did help me in my career was the ownership I had over my education because of its specificity and small class sizes. Your professors expect a lot from you, and I was ready to go into a position where the same amount of work was expected and the same high-quality output was anticipated. 
Tell us what you do at LinkedIn. 
I've recently just made a career switch at LinkedIn. Previously, I was the global manager of our data assurance program, which is a team that works with our sales representatives across LinkedIn to help ensure that we have accurate customer data. 
Currently, I am a program manager within our central operations team. My role is to ensure that our teams have all of the systems and tools built out to be able to do their day-to-day job. I oversee the operations organization to make sure our programs in place allow teams from different locations to work together; making sure that what works in our San Francisco office is going to work in our Bangalore office. 
But my job as a program manager is really great, because I do get to interact with several different teams across the world and just make sure that we ensure that our processes and systems that are in place work for everyone.
Do you have a favorite memory?
One of my favorite memories at Pacific was when I joined Kappa Alpha Theta. Through Theta, I found some of my long-lasting friendships. Actually, the reason I got to work at LinkedIn was because one of my fellow Thetas. She was already at the company and reached out to a group of us who had just graduated saying they're looking to hire if anyone is interested. 
What is there about Pacific that you hope never changes? 
I hope they never get rid of the study abroad requirement for specific majors. I think that was probably one of the most important things I did during my entire Pacific career. But I also hope that they never lose that sense of free discussion as they have a very engaging faculty.