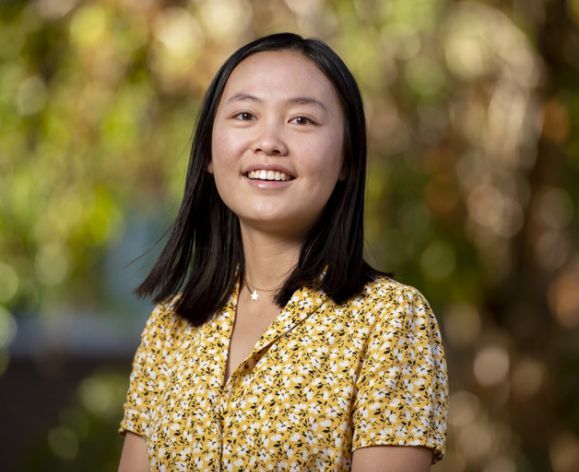 Outstanding Student
Guiying (Angel) Zhong
Grad Year: 2023
Major: English and psychology
Hometown: Walnut Creek, CA
Activities: Powell Scholar, Humanities Scholar, ASuop senator for College of the Pacific
Q: What compelled you to choose English as your major?
Guiying: English was the first subject that I immersed myself in not for tangible results/rewards, (e.g. grades or praise from authority figures) but genuine enjoyment. It taught me about introspection and empathy—tragedy and resolve. Moreover, literature allows me to connect with both the dead and the living; the fact that writers from hundreds of years ago were able to articulate in their work what I was feeling in 2014 is inexplicably amazing to me.
On a more pragmatic note, I might be a bit biased, but I truly think English is one of the most versatile majors out there. I can't think of one profession where critical reading, writing and thinking skills aren't vital for success.

Q: What activities have you been involved in through the English department and beyond?
Guiying: Through the English department, I've been involved in a couple of undergraduate research opportunities, such as the National Conference on Undergraduate Research, which hosts thousands of college students' research presentations every year.
I'm also a student representative for the English department—a position that consists primarily of talking to prospective students and their families about what the department has to offer, as well as my own experience as an English major at Pacific.
Beyond the English department, I'm a Pacific Humanities Scholar, Powell Scholar, and senator for ASuop, Pacific's on-campus student government.
 
Q: What advice would you give current students?
Guiying: The most important piece of advice I'd give myself and other current students right now is to have patience with yourself and your professors. The sudden transition from in-person to remote learning has and will not be seamless nor easy—as many of us experienced last semester. It's challenging to not let that consume you, but remember to treat yourself with care and understanding.
Q: What advice would you give incoming students?
Guiying: I can't imagine what it must feel like to undergo such a pivotal transition at this time, but please know that you can still have a fulfilling first-year experience. Reach out to classmates for virtual study groups and hangouts. Contact professors about research assistantships and opportunities. Attend ASuop's virtual programming. I know it'll be difficult, but don't hesitate to make the most out of your freshman year!
Q: Why did you choose Pacific?
Guiying: In the spring semester of my senior year, I visited several prospective schools to narrow down my college list. Most of the campuses I toured were large state schools that felt simultaneously overwhelming and impersonal in their vastness. At Pacific, however, I had a completely different experience. I got to sit in on a class and was amazed by the established rapport between the professor and her students. She repeatedly joked around with them and gave personalized assistance. The atmosphere was warm, casual and welcoming. By the end of my visit, Pacific had distinguished itself as one of my top choices.
Q: What do you feel makes Pacific stand out from other universities?
Guiying: At many other universities, the opportunities available are consistently outnumbered by the numerous qualified applicants. Contrastingly, at Pacific, there are more than enough opportunities to go around for students, and professors are always actively trying their best to inform students about and encourage them to pursue said opportunities. In addition, students at Pacific are exposed to and often participate in graduate-level research while still in the process of getting their undergraduate degree.